Many couples look forward to one day raising their own children and watching them grow up. But as new parents, some things can make you realize how challenging it can be to take care of your bundle of joy. This includes learning how to feed them, looking after their health, and most of all, bathing them properly.
Giving your newborn a bath can be tricky if you haven't prepared for it properly. Since babies are small and delicate beings, many elements in the bathroom can easily cause injury or harm to them. Thus, you may often get nervous the first few times bath time comes around.
Luckily, this guide will help you gain confidence and teach you how to master postpartum care like a pro.
What are Your Baby's Bathing Options?
Regularly bathing your baby is essential to keeping them clean, comfortable, and healthy. Here are two different methods you can try with your newborn.
Sponge bath

Sponge baths are typical for newborns when they aren't ready to have regular baths yet. This is also recommended for babies whose umbilical cord stumps haven't fallen off yet.

Tub bath

Tub baths can be an excellent way to get your baby comfortable with the water and enjoy being washed. You can start doing this once their umbilical cord stump has fallen out. If you have a boy, this is usually recommended after they've healed from circumcision.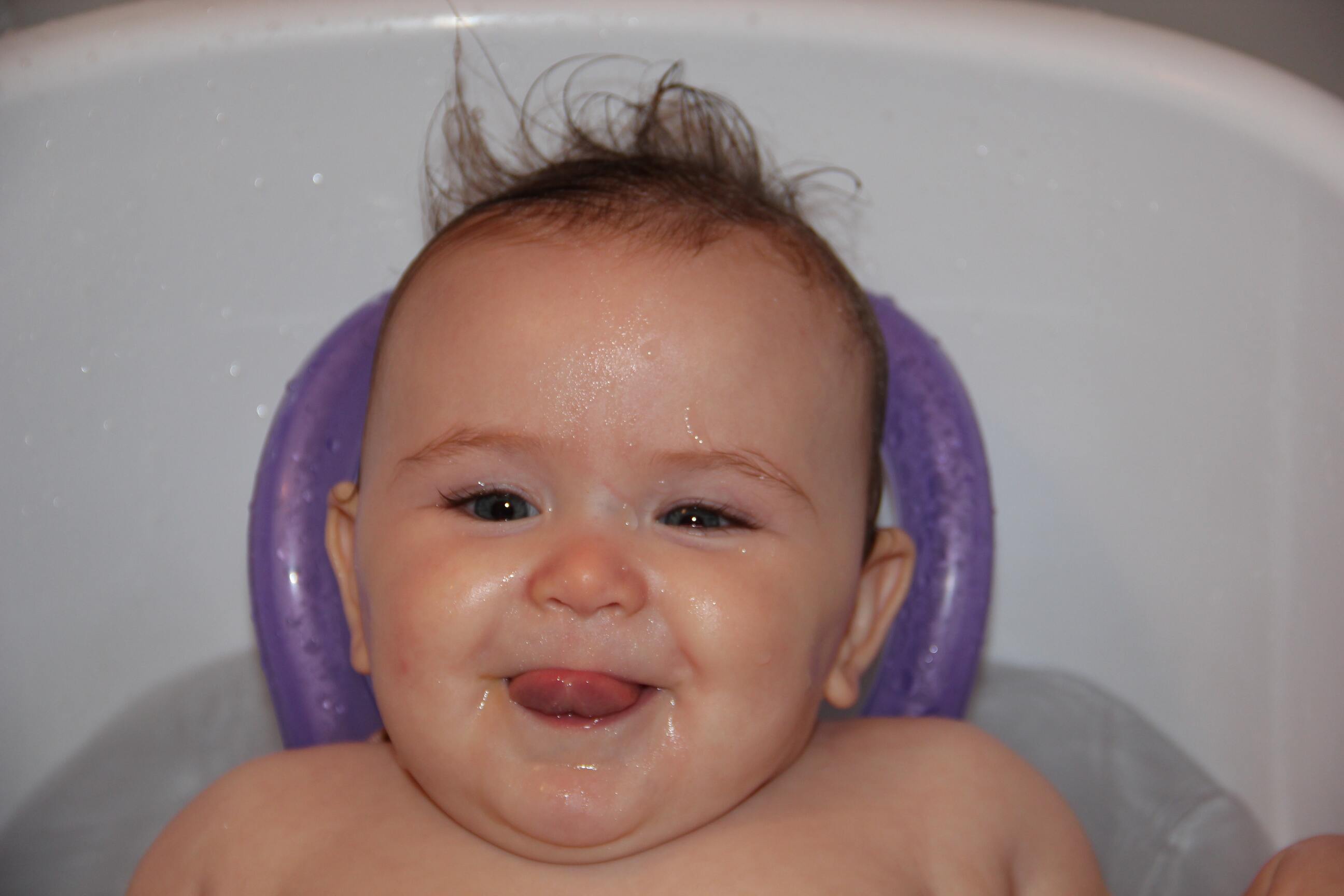 7 Baby Bathing Essentials You Need to Prepare
If you choose to bathe your baby in the appropriately sized tub, there are some things you need to take note of to make it a safe and easy process. Here are some essential tools you'll need to prepare for your newborn.
Baby bathtub

A smaller-sized tub is ideal for your newborn and will make it easier for you to clean them. Different kinds are available in the market today; some come with a bottom drain plug.

Non-slip mat

The mat should be placed inside the baby tub to help prevent your newborn from slipping in the water. This will also help you secure your hold while you bathe them.

Bath towel

Look for reasonably sized towels that are soft to the touch to dry your newborn. It should be big enough to wrap them in and keep them warm after taking them out of the water.

Soft sponges

Use small and soft sponges to gently wipe dirt off of your babies and protect their skin. You can also use a cotton ball to wipe around their face, eyes, and nose.

Baby-safe soaps and shampoos

During infancy, your baby's skin is still delicate, so it is important to choose products that are safe for their use. Standard soaps and shampoos used by older kids or adults may have strong chemicals that can be irritating for your newborn.

Diapers

After bathing and drying your baby, they will need a fresh diaper. It's best to have this nearby, along with the other essentials like talcum powder and baby wipes.

Clean change of clothes

Have a set of clean clothes ready for your baby once you've dried them off. Choose clothes suitable for the weather and loose-fitting to help make them feel more comfortable.
How to Properly Hold and Secure Your Newborn Baby
One of the best ways to keep your newborn safe in the bath is by having a secure hold on them. Use your non-dominant hand to support your baby's head and neck as you guide them into the water with your other hand. As much as possible, keep supporting their head as you begin to wash their face, hair, and body.
Safety Tips and Reminders
Safety should always be a priority during bath time. Here are some tips to get more comfortable with the experience.
Massage gently, don't scrub

Washing your baby with your hands is often enough to clean them compared to using a hard scrub that may irritate their skin. Most babies will also enjoy the massage and make the experience better.

Create a soft padded rest area

Before and after bathing your newborn, you should always have a soft area for them to rest on as you change and dry them off. Placing a layer of towels on a table is usually enough to create a soft cushion for them.

Don't leave the baby unattended

Avoid leaving the baby alone under any circumstances to ensure their safety. If you forgot any materials or items in another room, take them with you so you cut the risk of them rolling off any surfaces and injuring themselves.

Be patient with your baby

Not all babies will react the same to a bath. Some may be uncomfortable with the water at first but will slowly get used to the feeling later on. If they cry, look for methods of soothing them, like humming or talking to them during bath time.
Frequently Asked Questions
Is a sponge bath good enough?
Sponge baths are typically best until your baby's umbilical cord stump falls out. This can take around one to two weeks to ensure that your baby stays healthy and isn't at risk of infections.
What type of baby tub is best to use?
Using a tub made of plastic is best to avoid accidents or injuries to your baby. Before you put your newborn inside, line it with a non-slip mat or a towel to keep them in place as you wash them.
How should I wash my baby?
Starting from the head down to the lower body is generally the best option to avoid having cleaned areas from getting soapy again. It also makes it easier to lead the dirt downwards when rinsing.
Bath Time Bonding with Your Baby
Bathing your baby for the first time can be tedious because of how small and delicate they are. But as long as you take the necessary precautions, it can be a fun and memorable way of bonding with your newborn. This includes ensuring their surroundings are safe, using the right baby products, and taking the time to go through the process.
Was this article helpful? Rate it!
Comments