Pediatric and Adolescent Gynecology Society of the Philippines
(PAGSPHIL)
5th Biennial Convention
Reproductive Concerns of Girls
Mar 15 – 16, 2015
Quezon City Sports Club
featuring Nam D. Tran, MD, PhD
from University of California San Francisco
and esteemed local speakers

FEATURED TOPICS:
Multidisciplinary Management of Ambiguous Genitalia
The Dangers of Sex: STIs in the Young
Drug Addition in the Young
Controversies in Aesthetic Surgery in the Young
How to Talk to Teens About Sexual Health
Healthy Relationship Choices: The Adolescent Empowered
Adolescent Contraception, a Proactive Approach
Examination of the Girl Child, What's the Minimum?
Putting to Good Use the Pelvic Ultrasound in the Pediatric Age Group
Fertility Preservation in Female Children at Risk for Premature Ovarian Failure
Precocious Puberty: What You Should Know
Primary Amenorrhea: A Practical Approach
Hyperandrogenism in the Young
Therapeutic Options of Adolescent Endometriosis
Minimally Invasive Gynecologic Surgery in the Pediatric and Adolescent Age Group
Disorders of Dysgenesis: Epigenetics of Sex Differentiation and Development
Maternal Risk Factors that Lead to Female Genital Malformations in the Child
Surgical Management of Anatomic Abnormalities in the Outflow Tract
and more
To register, please contact:
Dr. Bot De Mata / Dr. Joy Lucion
Tel No.: (632) 924 6601 local 236 or 322
Mobile No.: (0905) 402 1025
Email: pagsphil@yahoo.com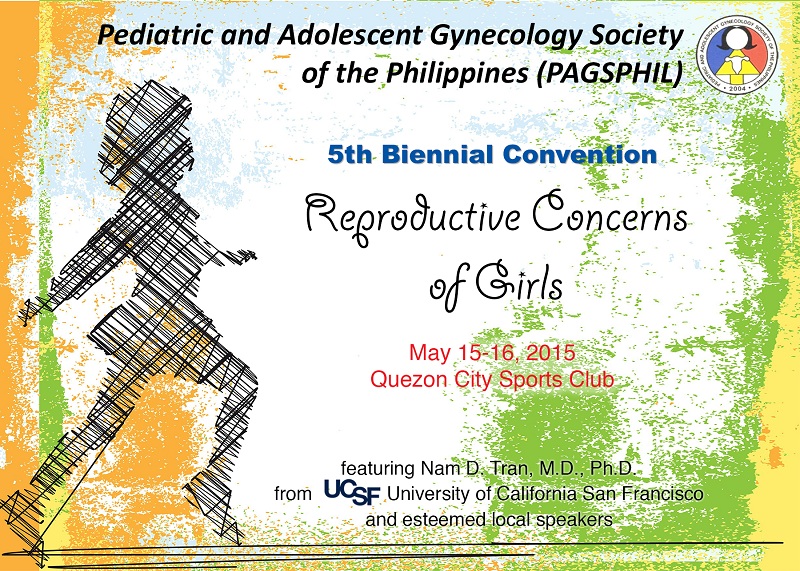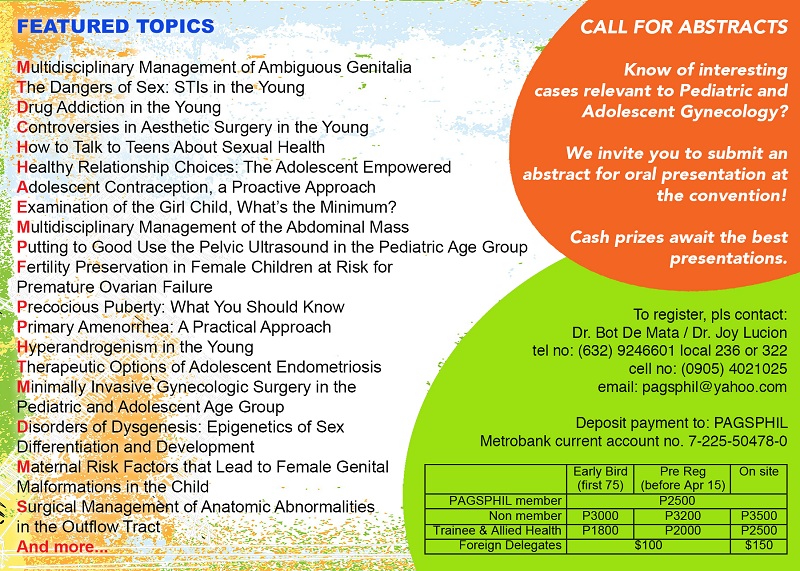 Was this article helpful? Rate it!
Comments