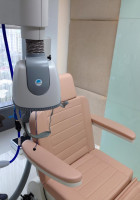 Brainsway™ is dedicated to developing and providing advanced technology solutions for the treatment of a variety of brain disorders.
Brainsway's dTMS is FDA cleared for treating depressive episodes in adult patients suffering from Major Depressive Disorder, who failed to achieve satisfactory improvement from previous anti-depressant medication treatment in the current episode (FDA 510(k) No. 122888).
Brainsway runs clinical research programs with leading scientists worldwide, collaborating with prominent institutions and researchers in clinical trials covering various neuropsychiatric and neuroscience applications.
The company's technology has already been applied in thousands of cases worldwide in the framework of clinical studies. It has also been enthusiastically embraced by leading research institutions worldwide, with over 60 clinical trials held across the globe. It is well-tolerated non-invasive procedure with minimum side-effects.
Available Application in the Philippines:
Depression
Parkinson's
Stroke Rehab
Alzheimer
Bi-Polar
Schizophrenia
Chronic Neuropathic Pain
Migrane
Smoking cessation
Post Traumatic stress disorder
Specialty: Neurology
Clinic Address & Schedule:
Brainsway Asia Research Center
Units 4 & 5 Zuellig Building, Paseo de Roxas cor Makati Avenue, Makati Philippines
Phone: (02) 955 1933 / (0919) 990 9161
Schedule:
Mon: 10:00AM – 7:00PM
Tue: 10:00AM – 7:00PM
Wed: 10:00AM – 7:00PM
Thu: 10:00AM – 7:00PM
Fri: 10:00AM – 7:00PM
Social Network:
LinkedIn
Facebook page