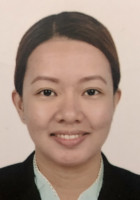 Dr. Sanchez is an Adult Neurologist based in Koronadal City and General Santos City, South Cotabato, who provides expert diagnosis and medical management of the common diseases of the brain, spinal cord, peripheral nerves and muscle, such as:
* Stroke
* Headache & Migraine disorders
* Epilepsy & other Seizure disorders
* Dizziness
* Traumatic Brain Injury
* Infections of the brain/spinal cord (i.e. Meningitis or Encephalitis)
* Brain Tumors
* Demyelinating diseases (i.e. Multiple sclerosis, GBS)
* Movement disorders (i.e. Parkinson's disease)
* Degenerative disorders (i.e. Alzheimer's disease, ALS)
* Neuromuscular conditions (i.e. Myasthenia gravis) and
* Neuropathy/ Nerve problems
* Spinal cord disorders (i.e. Tumors, Traumatic injury) and Etc.
She is also sub-specialized in Neuromuscular and Electrodiagnostic Medicine.
Specialty: Neurology
Clinic Address & Schedule:
Dr. Arturo P. Pingoy Medical Center
2nd floor, Gensan Drive, Koronadal City, South Cotabato Philippines
Phone: (0915) 464 9146
Schedule:
Mon: 10:00AM – 4:00PM
Wed: 10:00AM – 4:00PM
Fri: 10:00AM – 4:00PM
Sat: 10:00AM – 4:00PM
MD Square Medical Clinic
Jose Abad Santos St., Koronadal City, South Cotabato Philippines
Phone: (0915) 464 9146
Schedule:
Tue: 1:00PM – 4:00PM
Thu: 1:00PM – 4:00PM
Sarangani Bay Specialists Medical Center (SARMED)
National Highway, General Santos City, South Cotabato Philippines
Phone: (0919) 067 8416
Schedule:
Tue: 9:00AM – 12:00PM
Thu: 9:00AM – 12:00PM