Everyone wants to have a glowing and pimple-free skin. This is indeed an indication of healthy skin. Many times people change cosmetic products till they achieve their desired skin texture. But why should you spend on expensive acne treatment products and cosmetics when you can get it at home? There are several herbal kitchen ingredients that are useful for gaining a blemish-free skin. Follow these tips for getting the best acne treatment and remedies for stubborn scars and pimples.
1. Grapes
They shed the right amount of moisture to the skin. Grapes are an effective acne treatment ingredient to get rid of nasty pimples. Either crush them and apply the paste on your face or mix them with sandalwood and neem powder to make a face pack. Apply the mixture, leave it overnight and rinse off early morning. This acne treatment fruit proves to be one of the best remedies for curing pimples.
2. Groundnut oil and lime juice
Mix groundnut oil with a dash of lime juice and apply it on pimples and scars. It works as one of the classic remedies for reducing pimple eruptions.
3. Sandalwood, turmeric, and milk
The anti-microbial properties of turmeric along with sandalwood and milk effectively give a glow to the skin and clear tiny blackheads from the skin pores. Turmeric is the best anti-oxidant and effective acne treatment ingredient for your skin.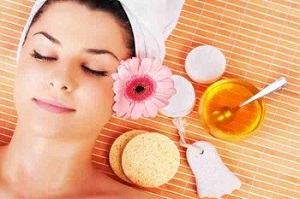 4. Honey and cream
These two ingredients keep your skin soft and supple during winters. Mix them and apply the paste directly to your face.
5. Fresh milk, salt, and lime juice
Salt and lemon juice contains high antioxidants that open the pores, and remove blackheads. Apply it as a lotion while washing your face with these ingredients twice a day for better results.
6. Tomato juice
Tomato, when mixed with lemon juice, acts as a cleanser to revive your dull skin. Tomatoes, when used with salt acts as one of the wonderful remedies for curing pimples.
7. Turmeric powder, sesame oil, and wheat flour
Blend these ingredients together, and it works as an effective hair removal treatment for your skin. The turmeric powder can also be mixed with lemon juice to cure sunburns and provide acne treatment.
8. Cabbage juice and honey
This may not be known by many. But this trick has been used since ages when it comes to reducing wrinkles and dark spots. Enjoy a glowing and young skin with this health tip.
9. Carrot juice
It is vital to rejuvenate the skin cells and add freshness to the skin. Applying carrot juice on your skin is an easy way to gain a natural, glowing skin.
10. Honey and cinnamon powder
An age old acne treatment tip, these ingredients will always work on any skin type. Mix 3 parts of honey with 1 part of cinnamon powder and make a thick paste. Apply it directly on pimples and acne rashes for quick, visible results.

11. Cucumber juice, glycerin and rose water
These powerful home ingredients are the best solution for avoiding the sun tan and giving an efficient acne treatment to your skin. Dab them on your skin before stepping out of home.
12. Aloe Vera juice
This water-based plant is used for multiple purposes and helps reduce pigmentation marks and skin dullness. It hydrates and balances the skin tone for eliminating pimples.
13. Ghee and glycerin
This mixture makes for a great moisturizer.
14. Rose petals, neem, multani mitti, tulsi and rose water
Mix these herbal ingredients together for gaining a healthy and glowing skin.
15. Apricots and yogurt
Crush them into a smooth paste and apply it for a supple and soft skin.
Your skin deserves to be healthy and gorgeous. Why feed it with chemicals and harmful ingredients, which will destroy skin cells in the long run? Use the above acne treatment tips and walk with confidence.
Was this article helpful? Rate it!
Comments