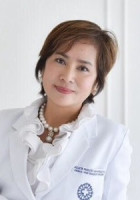 Dr. Julieta Peralta-Arambulo, is a Diplomate of the Philippine Board of Dermatology, Fellow of the Philippine Dermatological Society the first and only Filipino Diplomate of the American Board of Hair Restoration Surgery (ABHRS) (http://www.abhrs.com). She is the President and Founder of the Asian Hair Restoration Center, a member of the International Society of Hair Restoration Surgery and Asian Association of Hair Restoration Surgeons and consultant at Skin and Cancer Foundation of the Philippines and Head of the hair transplant service at the Aesthetic Wellness Center of The Medical City.
In 1997, she learned the art of Follicular Unit Hair transplantation, the gold standard in hair transplantation under Dr. Allan K. Yung of Anew Medical Group Clinic in Willshire California. Follicular Unit Hair Transplantation is the end refinement of hair transplantation which is a procedure entailing detailed attention and artistry.
In 2009, Dr. Arambulo acquired the knowledge and honed her skills in Follicular Unit Extraction (FUE): State of the Art Methodology and Instrumentation under Dr. James Harris in Denver, Colorado in 2009. FUE is the latest technique only performed by few talented hair transplant specialists all over the World. She performs herself the FUE procedure using the "Powered Safe Scribe", offering this procedure as alternative treatment, in patients with limited donor supply and who do not want donor linear scarring. FUE technique makes possible, Body Hair Transplant, which gives new hope to patients with limited donor supply.
Dr. Arambulo updates herself with the new developments and techniques in hair restoration surgery by attending various scientific meetings and workshops worldwide. She also lectures here and abroad. Her favourite topic is "Eyebrow Transplant", which she had the privilege to share "FUE Eyebrow Transplant" with use of Implanter during the 22nd International Society of Hair Restoration Surgery Annual Scientific Meeting last October 2014 in Kuala Lumpur, Malaysia and the latest one was in Thailand during the AAHRS 5th Annual Scientific Workshop in Hair Restoration and Live Surgery Workshop. She is also a contributing author of Eyebrow Transplant in East and South East Asians, 2nd edition of the book entitled: "Practical Aspects of Hair Transplantation in Asians".
Specialty: Dermatology
Local Board Accreditation:
Diplomate, Philippine Board of Dermatology
Fellow, Philippine Dermatological Society
Clinic Address & Schedule:
One San Miguel Avenue Building
Unit 1804 Shaw Boulevard, San Miguel Avenue Ortigas Center, Pasig Philippines
Arambulo Dermatology Center – The Medical City
MATI Room 1112, Ortigas Avenue, Pasig Philippines
Phone: (02) 502 0009 / (02) 696 7567