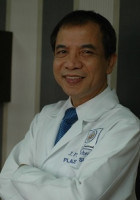 I am an Aesthetic & Reconstructive Plastic Surgeon who has been in practice for 25 years now.
I finished my Premed in 1976 and Medicine in 1980 at the University of Sto. Tomas, completed my Residency Training at the Veterans Memorial Medical Center in 1986 and my Sub-specialty Training in Plastic & Reconstructive Surgery in 1991 at the Makati Medical Center.
I am a Diplomate and Fellow of the Phil. College of Surgeons & the Phil. Assoc. of Plastic Aesthetic & Reconstructive Surgeons. I am currently the President of the Phil. Academy for Head & Neck Surgery.
I had my Fellowship Training in Aesthetic, Microvascular and Craniofacial Surgery at the Eastern Norfolk General Hospital, Children's Hospital of the King's Daughter and Eastern Virginia Medical Medical School in 1992 & 1993.
I have written and published 7 international medical/surgical books, including; Oriental Rhinoplasty, Nerve Blocks Made Simple, First Aid for Everyone and Asian Rhinoplasty. I am now in the process of writing my 8th book, Manual of Plastic Surgery.
My field of interest is Aesthetic & Reconstructive Surgery in the Head and Neck:
Hair Restoration / Hair Transplant
Nose / Rhinoplasty (Noselift, Tip Plasty, Alar Trimming, Revision Rhinoplasty)
Facial Rejuvenation:

Eyelids Surgery / Bepharoplasty, Removal of Eyebags, Creation of Eyelid Fold
Browlift, Temporal lift, Mini-facelift, Facelift, Necklift
Chin Augmentation, Malar Augmentation (Creation of High Cheek Bone)
Dermabrasion, Scar Revision
Fat grafting

Reconstructive Surgery:

Cleft Lip & Palate Repair
Revision of Cleft Lip Repair
Correction of Nasal Deformity (Cleft Lip patients)
Reconstructive Surgery for congenital and acquired conditions (e.g. after Trauma, Burns and Tumor Resections)

Breast Augmentation
Tummy Tuck / Abdominoplasty
and many more…
Specialty: General Surgery
Subspecialty: Plastic, Reconstructive And Aesthetic Surgery
Local Board Accreditation:
Fellow, Philippine College of Surgeons
Fellow, Philippine Association of Plastic Aesthetic & Reconstructive Surgeons
Clinic Address & Schedule:
Image Doctor's Clinic
Room 402 Pacific Century Tower
1472 Quezon Avenue (near EDSA)
Bgy. South Triangle, Quezon City 1103 Philippines
Phone: (02) 990 9190 / (02) 442 7354 / (0918) 937 7415 / (0922) 811 2996
Social Network:
Facebook