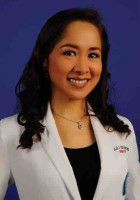 Associate Member, International Society of Dermatology (ISD)
Associate member, Philippine Academy of Dermatologic Surgery Foundation Inc. (PADSFI)
specializes in the treatment of clinical and cosmetic/aesthetic treatment of DISEASES of the SKIN, HAIR & NAILS
performs COSMETIC/AESTHETIC CONSULTATIONS for skin rejuvenation and anti-aging
performs aesthetic procedures such as:

Botulinum toxin injections (botox, dysport)
Dermal Filler injections (juvederm, etc.)
Laser / IPL Treatments for: hair removal, acne, acne scars, spider veins, skin tightening / pore reduction, pigmentations / dark spots
Non-surgical face lifting, body contouring and fat reduction using cavitation ultrasound, radiofrequency
Mesotherapy
Microneedling treatment
Sclerotherapy for varicose veins
Chemical Peels – cosmelan peel, mesoestetic peels, glycolic, TCA peels, etc.
Acne and acne scar treatment
Excision/removal of moles and other skin growths / tumors
Wart and syringoma removal
Treatment of sexually transmitted infections (STIs / STDs)
Specialty: Dermatology
Local Board Accreditation:
Diplomate, Philippine Board of Dermatology
Fellow, Philippine Dermatological Society
Fellow, Philippine Society of Venereologists Inc.
Clinic Address & Schedule:
Ospital ng Kabataan ng Dipolog Inc.
Room 210 Medical Arts Bldg.
604 Padre Ramon St., Estaka, Dipolog City Zamboanga del Norte 7100 Philippines
Phone: (065) 908 2601 / (065) 212 2837 / (0928) 875 7994
Schedule:
Mon: 8:00AM – 5:00PM
Wed: 8:00AM – 5:00PM
Thu: 8:00AM – 5:00PM
Fri: 8:00AM – 5:00PM
Sat: 8:00AM – 5:00PM
St. Therese Hospital
Oroquieta City, Misamis Occidental 7210 Philippines
Phone: (0928) 253 6226 / (0928) 505 3438
Schedule:
Tue: 3:00PM – 5:00PM
Social Network:
LinkedIn