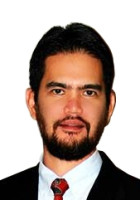 A laparoscopic as well as a hepatopancreatobiliary and liver transplant surgeon.
Worked at the Asian Centre for Liver Disease and Transplantation – Singapore; with expertise in comprehensive management of liver, gall bladder, bile duct and pancreatic diseases.
Proficient in minimally invasive laparoscopic surgery. Trained in advanced laparoscopic surgery of the upper gastrointestinal tract and colon at the Seoul National University Bundang Hospital.
A faculty lecturer in surgery with written and published researches on laparoscopic surgery, hepatobiliary surgery and liver transplantation.
Specialty: General Surgery
Sub-specialty:
Minimally Invasive / Advanced Laparoscopic Surgery
Hepatopancreatobiliary Surgery (Liver, Bile Duct and Pancreas)
Liver Transplantation
Clinic Address & Schedule:
St. Luke's Medical Center – Global City
Suite 722 Medical Arts Building
32nd Street cor Rizal Drive, Bonifacio Global City
Taguig City 1634 Philippines
Phone: (02) 789 7700 local 7722
Schedule:
Mon: 10:00AM – 12:00PM (by appointment)
Wed: 10:00AM – 12:00PM (by appointment)
Fri: 10:00AM – 12:00PM (by appointment)
St. Luke's Medical Center – Quezon City
Suite 545 Medical Arts Building
279 E. Rodriguez Sr. Boulevard, Quezon City 1102 Philippines
Phone: (02) 723 0101 local 6545
Schedule:
Mon: 1:00PM – 3:00PM (by appointment)
Wed: 1:00PM – 3:00PM (by appointment)
Fri: 1:00PM – 3:00PM (by appointment)
FEU-NRMF Medical Center
Suite 502 Marian Medical Arts Building
Regalado Avenue, Fairview, Quezon City 1118 Philippines
Phone: (02) 431 5120 / (02) 939 5118
Schedule:
Tue: 9:00AM – 11:00AM (by appointment)
Thu: 9:00AM – 11:00AM (by appointment)
Social Network:
LinkedIn