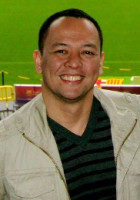 Dr. Jeremy F. Robles, MD, FPCP, FPSEM
Philippine Board Certified Internist (PCP) and Endocrinologist (PSEM). He did his residency in Internal Medicine Cebu Velez General Hospital (CVGH) graduating in 2005. Finished his Fellowship in Adult Endocrinology & Metabolism at The University of Santo Tomas Hospital (USTH) in 2009. Pursued further training in medical Neuroendocrinology at the National Institutes of Health (NIH) USA in 2010.
His expertise includes Diabetes and Metabolism, Goiter & Thyroid Disease, Obesity and Weight Problems, Pituitary and Adrenal disorders and other Hormonal illnesses.
Specialty: Internal Medicine
Subspecialty: Endocrinology
Local Board Accreditation: FPCP, FPSEM
Clinic Address & Schedule:
Cebu Velez General Hospital
Room 206, F. Ramos St. Cebu City 6000 Philippines
Phone: (032) 419 9627 / (0917) 321 4440
Schedule:
Mon: 9:00AM – 12:00PM
Tue: 9:00AM – 12:00PM
Wed: 9:00AM – 12:00PM
Thu: 9:00AM – 12:00PM
Fri: 9:00AM – 12:00PM
Sat: By appointment
Cyberdocs Specialist Center
4/F Robinson's Cybergate Mall
Fuente Osmena, Cebu City 6000 Philippines
Phone: (032) 520 6400 / (0932) 373 9736
Schedule:
Mon: 12:00PM – 3:00PM
Tue: 12:00PM – 3:00PM
Wed: 12:00PM – 3:00PM
Thu: 12:00PM – 3:00PM
Fri: 12:00PM – 3:00PM
Sat: By appointment
Hospital Affiliations:
Cebu Velez General Hospital
Chong Hua Hospital
Perpetual Succour Hospital
Sacred Heart Hospital
Visayas Community Medical Center
St. Vincent General Hospital
Adventist Hospital – Cebu
Social Network:
LinkedIn
Twitter
Facebook Page