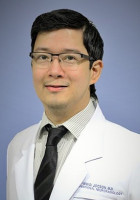 Certified Interventional Neuroradiologist and Peripheral Body Interventional Radiologist by profession with separate full certifications for these disciplines, formally trained with clinical fellowships in Canada and France between 2011-2016.
Interventional Neuroradiology: Brain Aneurysms (coiling, Balloon-assisted, Stent-assisted, Flow Diversion) Avms (onyx, Nbca Glue) Fistulas (onyx, Nbca Glue, Coiling) Stroke (mechanical Thrombectomy). Vasospasm (ia Infusion Therapy Or Angioplasty) Symptomatic Stenosis (stenting Procedures) Head And Neck Tumor Embolization…
Peripheral Body Interventional Radiology Practice: Multi-organ System Vascular and Non-vascular Peripheral Interventional Radiology Procedures including Tumor Biopsies, Vascular Access, Fluid Drainages, etc. Minimally-invasive Interventional Oncology including Tumor Ablations, Chemoembolizations, Biliary Interventions and Image-guided Cancer Therapeutics.
Specialty: Radiology
Subspecialty: Interventional Radiology
Clinic Address & Schedule:
De Los Santos Medical Center
Room 310 Medical Arts Bldg. or Cathlab, E. Rodriguez Sr. Ave., Quezon City Philippines
Phone: (02) 8893 5762
Schedule:
Tue: 3:00PM – 5:00PM
Other affiliated hospitals:
The Medical City Ortigas – Radiology Dept. or Cathlab – (02) 8988 1000
Makati Medical Center – Radiology Dept – (02) 8888 8999
Asian Hospital and Medical Center – Radiology Dept or Cathlab – (02) 8771 9000
Capitol Medical Center – Radiology Dept or Cathlab – (02) 8372 3825
Providence Hospital – Radiology Dept or Cathlab – (02) 8558 6999
The Medical City Iloilo – Cathlab or Radiology Dept – (033) 500 1000
The Medical City South Luzon – Cathlab – (049) 544 0120
The Medical City Clark – Radiology Dept or Cathlab – (045) 300 8888