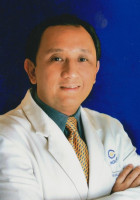 Dr. Reginald Gozun Bautista is a proud product of the Dominican administered – University of Santo Tomas as a Doctor of Medicine. He also has a Masters Degree in Management Major in Hospital Administration from the Philippine Christian University.
At the Veterans Memorial Medical Center, postgraduate training in General Surgery and later specializing in Urology. In 1993 Diplomate by the Philippine Board of Urology which certifies and recognizes his expertise in the surgical specialty.This surgeon is a certified Fellow of both the Philippine Urological Association and the Philippine College of Surgeons since 1994. He is likewise an international member of the American Urological Association as well as the European Urological Association.
The urologist is an active member of the Quezon City Medical Society a component society of the Philippine Medical Association.
He is an affiliate consultant at National Kidney and Transplant Institute, Urology Center of the Phils Inc. hospital. His previous professional appointments were as follows: former Chairman, Section of Urology of the De Los Santos Medical Center Department of Surgery and former Director of the Stone Treatment Center (Manila Lithotripters, Inc.). His previous corporate background as a former Assistant Medical Director and Marketing Head of Health Plan Phils. Inc.
Specialty: General Surgery
Subspecialty: Urology
Local Board Accreditation:
Diplomate, Philippine Board of Urology
Fellow, Philippine Urological Association
Fellow, Philippine College of Surgeons
Clinic Address & Schedule:
Capitol Medical Center
Room 1007 10th floor CMC IV, Quezon Avenue, Quezon City 1103 Philippines
Phone: (02) 8373 9063 / (02) 8372 3825 local 5007
Schedule:
Mon: 9:00AM – 2:00PM
Tue: 9:00AM – 2:00PM
Wed: 9:00AM – 2:00PM
Thu: 9:00AM – 2:00PM
Fri: 9:00AM – 2:00PM
Sat: 9:00AM – 2:00PM
Face to face video consultations for appointments:
viber: 09176274077
facebook messenger: UroDocBautista
email address: rgburology@yahoo.com.ph