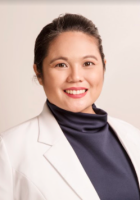 The DHI Global Medical Group is the world's largest hair restoration clinic, with 75 clinics in 36 countries. Our Direct Hair Implantation procedure is today's golden standard for hair transplants.
All surgeons are certified at the London Hair Academy and treat hundreds of cases each year to maintain proficient surgical skill and excellent results.
Dr. Jaymme Villafuerte is a member of FPAAAMI, and has trained internationally with the best surgeons across Asia to create bespoke hairlines and maximum density for both male and female patients. She has been accredited by the London Academy of Hair, and is a certified DHI surgeon from DHI International. Jaymme is accustomed to treating trans patients who want to feminist their hairlines, and can also implant beards and eyebrows.
Specialty: Family Medicine
Clinic Address & Schedule:
Clinique de Paris
Twin Cities Condominium, G/F 110 Legazpi Street, Legaspi Village, Makati 1229 Philippines
Phone: (02) 8893 6175
Schedule:
Mon: 9:00AM – 6:00PM
Tue: 9:00AM – 6:00PM
Wed: 9:00AM – 6:00PM
Thu: 9:00AM – 6:00PM
Fri: 9:00AM – 6:00PM
Sat: 9:00AM – 6:00PM