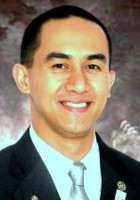 Board Certified Otorhinolaryngologist – Head and Neck Surgeon, Dr. Frederick Mars Untalan is an accomplished surgeon who have notable experience in the medical and surgical care of patients with Diseases of the Ears, Sinus Problems and Nasal Allergies, Tonsillitis and Pharyngeal problems, Facial Pain and Headache, Oral Cavity & Neck Tumors including Thyroid and Goiter, Facial Trauma, Fractures & injuries and Facial Tumors. He has also special interest in Maxillo-Facial Surgery, further defined by his noteworthy involvement in advancing the specialty by his proficient lectures as well as in expert clinical case management.
As he plays an important role in training, learning and development of future specialists, he has distinguished himself in raising the bar in hospital specialty and residency training through the application of evidence based surgery while engaging trainees in doing more basic ethical clinical research.
While possessing a Masters in Business Administration in Health (MBA H), he continues innovating his approach in people management skills and never ceases in crafting the perfect strategy in educating and leading his clients, his colleagues, his specialty and his community.
Specialty: Otorhinolaryngology
Subspecialty: Oral And Maxillofacial Surgery
Clinic Address & Schedule:
Notre Dame de Chartres Hospital
Room 101, Pueblo De Maria Building, Gen. Luna Road, Baguio City, Benguet 2600 Philippines
Phone: (0936) 116 4305
Schedule:
Mon: 3:00PM – 6:00PM
Wed: 3:00PM – 6:00PM
Fri: 3:00PM – 6:00PM
Baguio General Hospital and Medical Center
Department of ENT, Baguio City, Benguet Philippines
Schedule:
Mon: 8:00AM – 12:00PM
Tue: 8:00AM – 12:00PM
Wed: 8:00AM – 12:00PM
Thu: 8:00AM – 12:00PM
Fri: 8:00AM – 12:00PM